I went to the computer and found some pretty fonts and printed out what I wanted to display.
I flipped the page over and used a charcoal rub on the back.
After positioning the pages, I used a retractable pencil without the lead showing and traced the outside of each letter.
The charcoal showed up on the cabinet door as a template for me to fill in.
I used a craft pen to trace the outside edge. *** First, test it on the back to make sure it doesn't bleed!!***
My intentions were to only trace with the marker and fill in with paint, but once I realized I couldn't find a good paintbrush, I just filled it all in with the marker.
It took me an afternoon to finish the hand stenciling - not too shabby!!! Here's the finished product:
:::Posting up to:::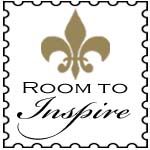 Please check out their blogs!!